What's New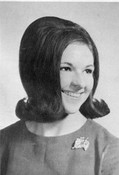 Wow. Eighty Five years is a long time. Congratulations from your long-time friend -- Loy Dean.. We enjoyed a lot of good times -- elementary, junior high and high school. Hope you had a great birthday yesterday.
HAPPY BIRTHDAY on the 25th
Hope you have a great day
Posted on: Mar 16, 2022 at 6:05 PM
Happy birthday!
Posted on: Mar 15, 2022 at 10:10 AM
Hi Bette.... Sorry I missed getting this to you on your birthday but my password wasn't working. Happy birthday and I hope you have a healthy and good year. I hope to see you at the reunion this year assuming we can get that scheduled. Our survivor list is getting smaller. I am glad you are still on it. Dean