In Memory
James E. Wedgeworth - Class Of 1949 VIEW PROFILE






Name:
James "Bill" Wedgeworth

Date:
March 27th, 1931 - December 14th, 2011

Obituary:
Funeral Services for Mr. James "Bill" Edward Wedgeworth, 80, of Carthage, will be 2:00 p.m., Friday, December 16, 2011 at the Corinth Missionary Baptist Church with Rev. Steve Jackson and Dr. W.C. "Bill" Everett officiating. Burial will follow in the Corinth Cemetery under the direction of Hawthorn Funeral Home. Family visitation will be 6-8:00 p.m. Thursday night at the funeral home. Mr. Wedgeworth died Wednesday, December 14, 2011 in Tyler, Texas. Mr. James "Bill" Edward Wedgeworth was born March 27, 1931 in the Corinth Community of Shelby County, Texas. He was the second of seven children born to the marriage of Frank and Corine Nall Wedgeworth. Bill graduated from Timpson High School, later serving his country through the U.S. Army as a sergeant 1st class during the Korean war. He married Helen Sue Campbell July 23, 1955 and together they celebrated 56 years of marriage. Mr. Wedgeworth worked 36 years for Conoco Phillips as a plant manager in the gas production field, retiring in 1990. After retirement he became a full time cattle rancher. He earned the Conservation Farmer of the Year Award from the U.S.D.A. He loved quail hunting or anything outdoors. He was a member of the Central Baptist Church, a man who loved his Lord and family above all else. He is preceded in death by his parents and a brother, Bob Wedgeworth. He is survived by his loving wife, Helen Sue Wedgeworth of Carthage, son, Greg Wedgeworth of Longview, daughters, Donna Hebert and husband Alan of Lafayette, LA, Cheryl Cassity of Carthage, grandchildren, Aaron and Brian Hebert, Heather Nicole Sorrells and Klayton Ryan Cassity, sisters, Margie Faye Bunch of Katy, Clara Pitts and husband Jesse of Magnolia, Marie Mercer and husband Allen of Midland, Jeanette Hodge and husband Wayne of Diboll and Geneva Harrison of Carthage, numerous nieces, nephews and a host of friends. Serving as pallbearers will be Bill Bailey, Gene Dixon, Bill Price, Cole Roberts, Robert Wilson and David Pyle. Honorary pallbearers will be Aaron Hebert, Brian Hebert, Klayton Ryan Cassity, and Heather Nicole Sorrells.

Courtesty of Hawthorn Funeral Homes in Panola County.
Honoring the service to our country of US Army Korean War Veteran Sergeant First Class James Edward Wedgeworth on the 7th year of his passing. Son of Frank and Corine Nall Wedgeworth, husband of Helen Wedgeworth. 1949 graduate of Timpson High School. Buried in the Corinth Cemetery, Timpson, Texas. The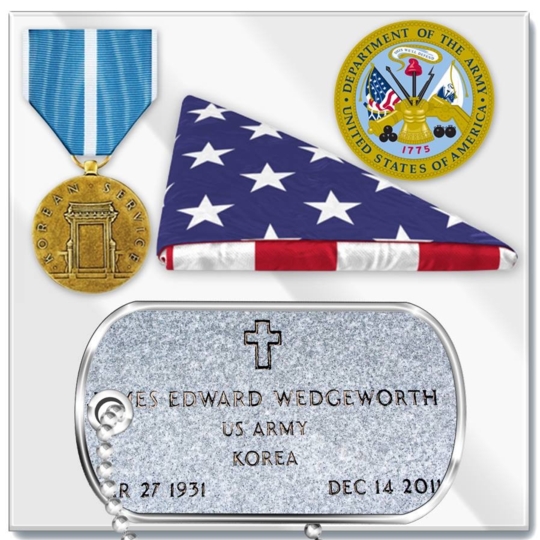 Courtesy of Larry Hume.
Click here to see James E.'s last Profile entry.