In Memory
Ted Adams - Class Of 1962 VIEW PROFILE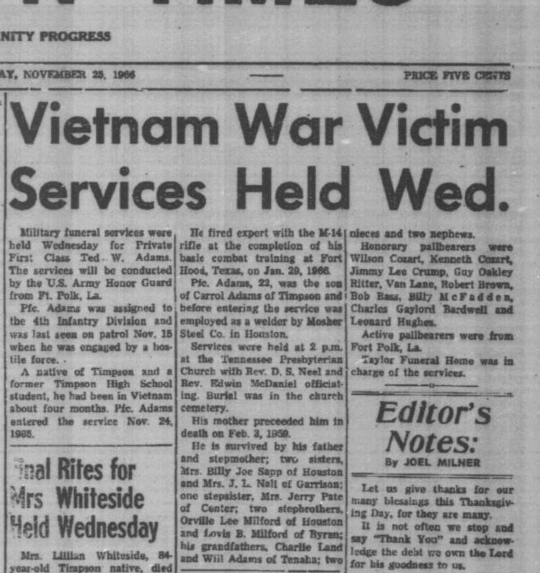 Obituary courtesy of Timpson Times and TAGHS.
Tad went to Houston to work after graduation. He had been living with his father in Timpson. In Houston he lived with his sister Maxine. He had attended the Timpson school all 12 years. Tad worked for Mosher Steel for about a year until he was drafted. He was in Vietnam for three weeks and only in battle for one week when he was killed. He is buried in the Tennessee Communtiy by his mother and father.
| | | | |
| --- | --- | --- | --- |
| ADAMS , TED WANE | PFC | 54366063 | HOME OF RECORD: HOUSTON, TX; DOB: July 31, 1944; DATE OF DEATH OR DECLARED DEAD: November 15, 1966; MILITARY SERVICE: U.S. ARMY; COMPONENT: Selective Service; MOS / SERVICE OCCUPATION: Light Weapons Infantry (ARMY); UNIT: A Co, 2nd Bn, 8th Inf, 4th Inf Div; TYPE OF CASUALTY: HOSTILE, DIED-MISSING; PLACE OF DEATH: S.VIETNAM; |
Ted Wane Adams
Private First Class
A CO, 2ND BN, 8TH INF RGT, 4 INF DIV
Army of the United States
31 July 1944 - 15 November 1966
Houston, Texas
Panel 12E Line 076
The database page for Ted Wane Adams
18 May 2005
You are gone but not Forgotten, my fellow Vietnam Veteran.
A Note from The Virtual Wall
Alpha Company, 2/8th Infantry, lost 4 men on 15 Nov 1966:
Click here to see Ted's last Profile entry.